Home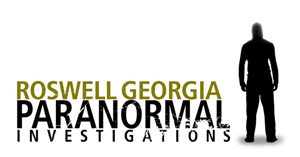 Upcoming events outside of our
REGULAR tours
… 
Friday, October 3rd starting at 7pm… Britt Griffith and Dianna Avena at NETHERWORLD Haunted House!  Britt and Dianna look forward to going through the haunted houses and then will have a booth set up outside.  Come out to Netherworld, and then say hi to us before and/or after your visit to the best haunted house(s) in GA!  Britt will have heads shots and TAPS merchandise for sale.

Saturday, October 4th beginning at 7pm… A special evening with Britt Griffith and Chip Coffey!!  We will meet at Red Door Playhouse on the town square for an exciting (and hilarious) Q&A from Chip Coffey and Britt Griffith, then a lecture from Britt Griffith.  ($50 per person )  Ask for the VIP add-on for an investigation of haunted Roswell led by Britt Griffith for $60 more!  (Scroll down to the bottom of this page for more details, then reserve your spot ASAP!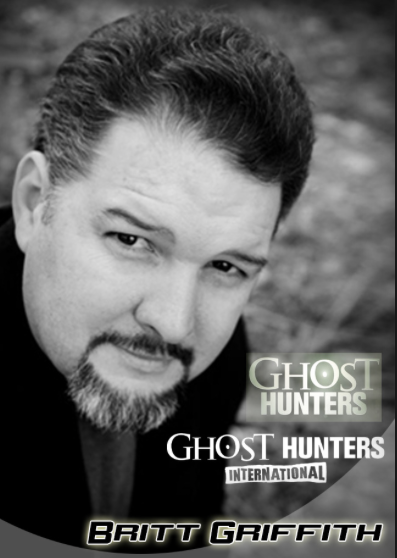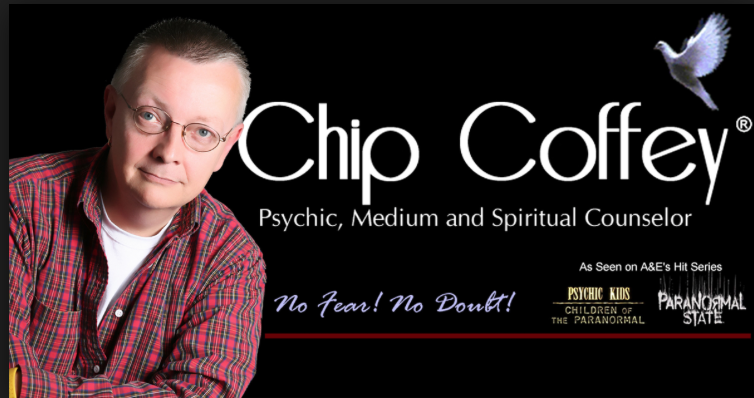 Saturday, October 11th… SPIRITS CRAWL!  $40 includes tour, 3 flights of beer, 3 glasses of wines, and 3 signature cocktails/shots over 3 separate stops along the tour!  See bottom of this page for more details.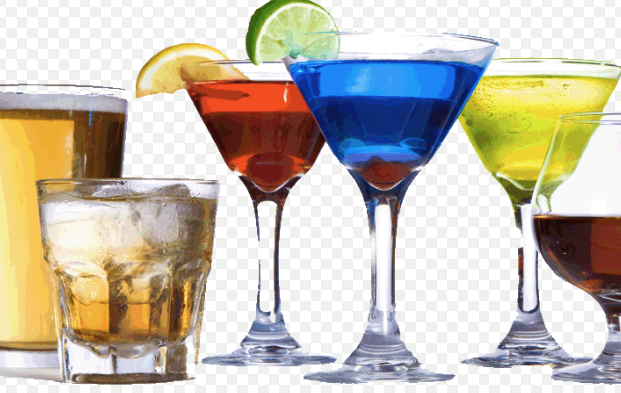 Saturday, November 22nd… author Andrea Perron! The haunted house she grew up in was made into the movie, "The Conjuring." Stay tuned for details!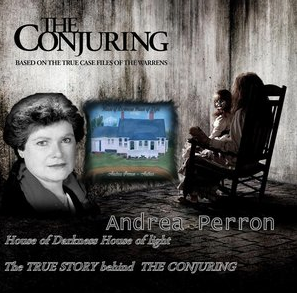 Welcome to ROSWELL GHOST TOUR in historic Roswell, Georgia! Currently in our 15th year!
YEAR-ROUND outdoor, 2 1/2 hour (at least) walking ghost tour!
NO made up stories! We tell of
current paranormal phenomena that is routinely experienced by residents,
business owners, and our own tour attendees! We know of other ghost tours in
the Atlanta area that wrote fictitious ghost stories for their town's ghost
tours. Roswell Ghost Tour is not that type of tour.
Check SCHEDULE page for current schedule of tours. Private group tours are also available  to suit your desired date and start time! Tour is 2.5 hrs long, but only covers 1 mile from start to finish.  Therefore, it is not a strenuous walk.  
WHERE: Tours depart from the bandstand in Roswell square (across from the Roswell visitor's center – 617 Atlanta St., Roswell, GA 30075) @ the intersection of Highway 120 & Highway 9.We assemble ourselves in the bandstand in the town square 15 minutes before tour start time to begin promptly on the hour. The address to the town square (for GPS purposes) is 610 Atlanta St. This is NOT a mailing address.
HOW MUCH: Tour fees: $15 for adults, $10 for children 12 and under, not including guide gratuities. Each attendee will be required to sign a liability waiver before we begin. A portion of the proceeds continues to go to various preservation and restoration projects throughout historic Roswell.
AVAILABLE NOW!! Order your personalized, signed copy of Dianna's new book
"Roswell: History, Haunts and Legends"
Books will also be available for purchase at the end of the tours, just ask your guide about purchasing a signed book.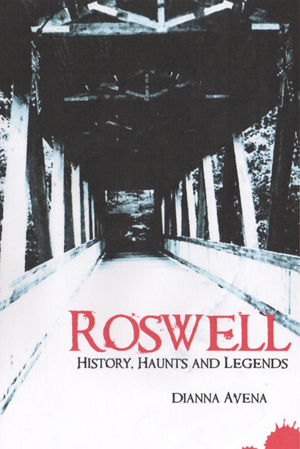 Come to Roswell, GA! Experience the charm and mystery of the deep south through our many ghost stories. Learn much about Roswell's deep history from our knowledgeable guides. In the heart of this historic village, one will be surprised by how many spirits reside behind the walls of the antebellum mansions which General Sherman never burned. The deep ravines with their ruined mills hold secrets of exiled mill workers whose toilsome moans may still be heard.
Your experienced guide will lead you on a 2.5 hr  hour tour through the historic district of Roswell. One of the highlights of the tour is a visit to Founders Cemetery, the burial site of the founder of Roswell, Roswell King. Here, bodies are buried beneath modern streets and houses. Grand Greek revival mansions and humble mill worker's apartments are some of the haunted sites you'll see on this mile of easy walking. We are active paranormal investigators who promise to thrill, educate and enlighten with this experience.

No acting, no made up stories, no costumes, no fake accents, no gimmicks. Just real, unexplainable, current stories of paranormal events led by paranormal investigators.

RECOMMENDATIONS: Flashlights (please don't shine into windows of private residences), umbrella if necessary, good walking shoes, insect repellent if necessary, and a camera! If you catch anything paranormal (happens often), we'd love to see it! Have some ghost hunting equipment?? Bring it!
We are currently developing a second tour in a nearby, more commercial area of Roswell!
***Roswell Ghost Tour's stories have been copyrighted, (2005, 2007)***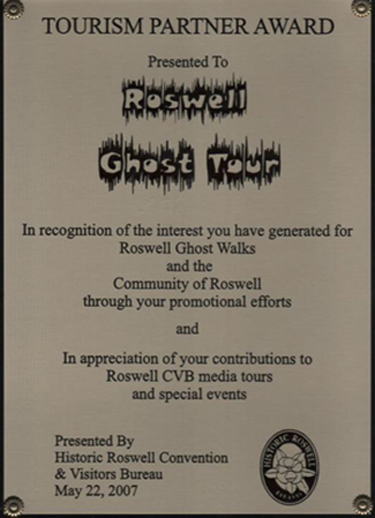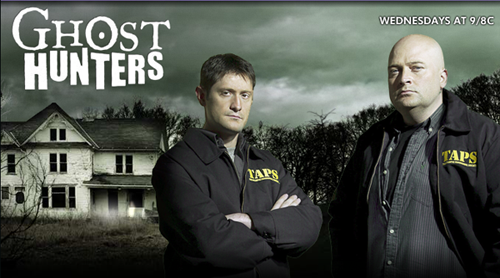 Joe and Dianna Avena were in an episode of Sci-Fi channel's "Ghost Hunters" in their 5th season! Joe and Dianna were filmed investigating with their friends, the Ghost Hunters team, at 2 Atlanta area locations which aired in April 2009. The episode is entitled "Titanic Terror". View the episode HERE!
Keep checking back here to find out about future tours that feature our friend, celebrity guest, Chip Coffey!
Click HERE to read the Foreward that Chip Coffey wrote for Dianna's book.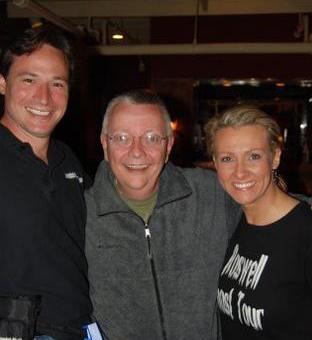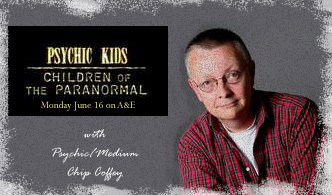 We will be scheduling more paranormal pals to join us as celebrity guests on the Roswell Ghost Tour!  Keep checking back here for details as they come, as well as on our Facebook and Twitter pages!
Celebrity guest, Joe Chin, from SyFy's 'Ghost Hunters International', November 8th, 2013…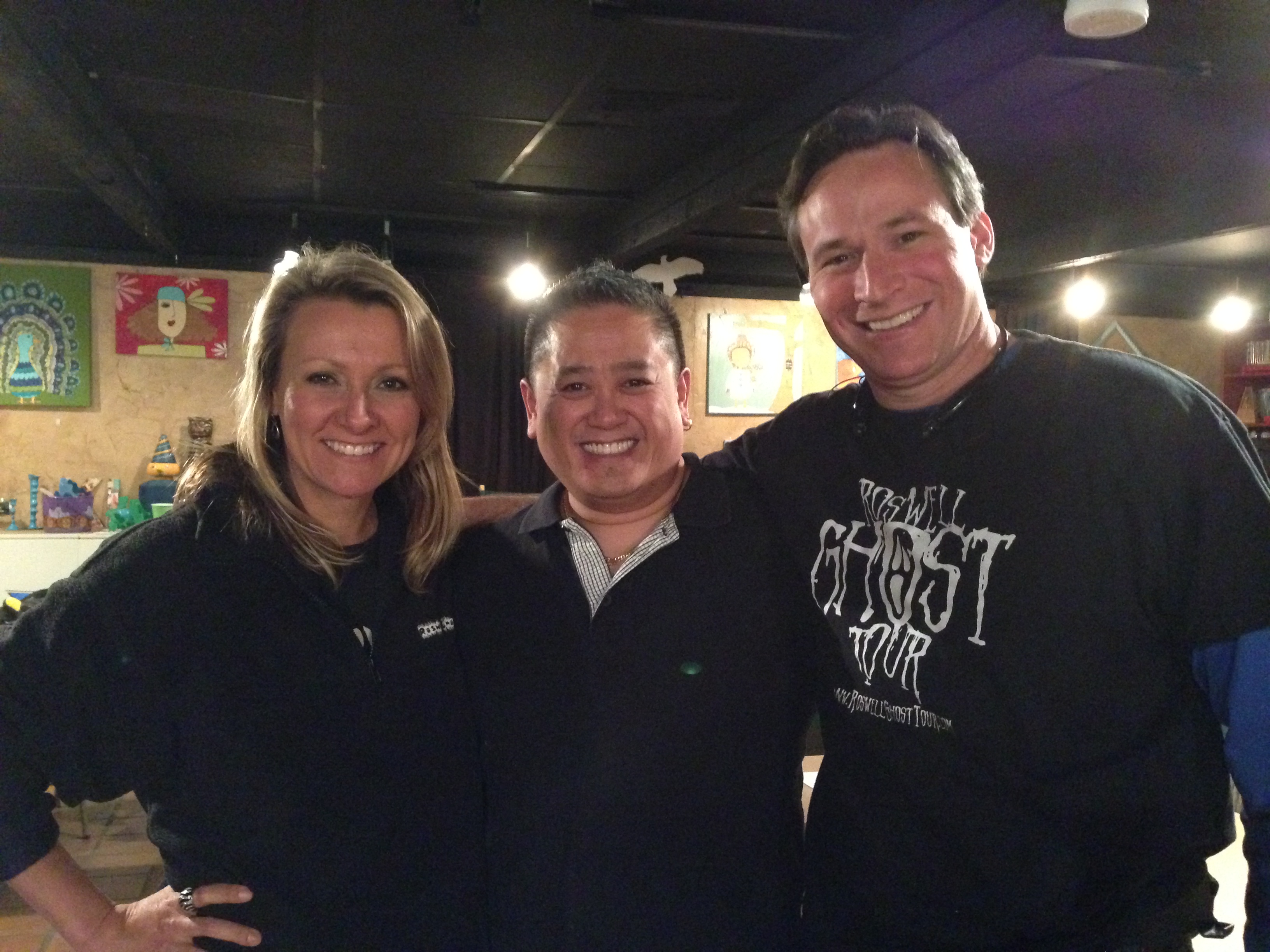 Britt Griffith AND Chip Coffey on the Roswell Ghost Tour, June 28th, 2014…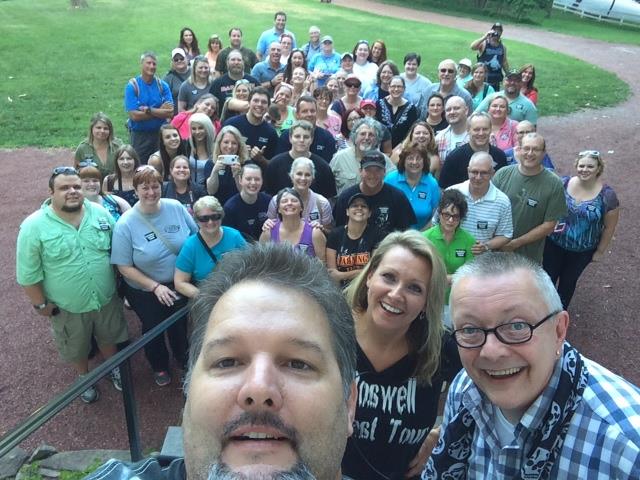 Follow Roswell Ghost Tour on Facebook!
Think your pet would enjoy attending the Roswell Ghost Tour? We'll aim to provide a pet friendly tour once a month! We're animal lovers ourselves and are happy to provide the opportunity for your four-legged friends to be a part of the fun as well! All four-legged friends attend the tour for FREE. We insist that they be leashed, that you do pick up after your "children", and keep them well behaved. We look forward to meeting them (and you too)!
Saturday, October 11th at 7pm… our next SPIRITS CRAWL!

SPIRITS CRAWL
Saturday, October 11th, 7 – 10:30pm
Sponsored by: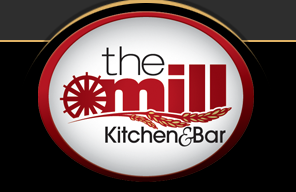 590 Mimosa Blvd, Rowell, GA 30075
Come join us in some spirited drinks as you embark on your evening with the Roswell Ghost Tour!
STOP 1:
Flight of 3 beer selections
STOP 2:
Flight of 3 wine selections
STOP 3:
Flight of 3 spirits, including a signature cocktail designed especially for the Roswell Ghost Tour!
Tickets are $40 per person, including the tour price.  Reservations required.  No discounts, coupons or Groupons may be used for this special event.
Valid identification must be presented at each stop.
Make your reservations through the Roswell Ghost Tour website today!
www.roswellghosttour.com
Friday, October 3rd & Saturday, October 4th…
Roswell Ghost Tour will again host our dear
friends Britt Griffith & Chip Coffey!
Friday, October 3rd starting at 7pm: $60
We will meet in the town square for a SPIRITS CRAWL with Britt Griffith!  He will join us as we sample 3 different beers at the Mill Kitchen & Bar, then continue along the tour until we stop again for 3 separate wines, then finish out the tour until we end back at the Mill Kitchen & Bar for 3 separate cocktails.  At this time, you will be able to purchase merchandise from Britt Griffith as a souvenir of your evening partying with him!  $60 (paid at the start of the tour) includes the tour and all alcoholic drinks.
VIP add-on:  For $60 more, stay on while Britt Griffith leads us on an investigation of haunted Roswell!
Saturday, October 4th starting at 7pm: $50
We will meet at Red Door Playhouse where we will get a Q&A session with Britt Griffith and Chip Coffey!  They will also have merchandise for sale there, as well as Chip Coffey's book "Growing Up Psychic."  Then, Britt Griffith will share his lecture with us, complete with video clips, EVPs, humorous outtakes from SyFy's "Ghost Hunters" tapings, and much much more!
VIP add-on:  For $60 more, stay on while Britt Griffith leads us on an investigation of haunted Roswell, beginning with the inside of Red Door Playhouse!